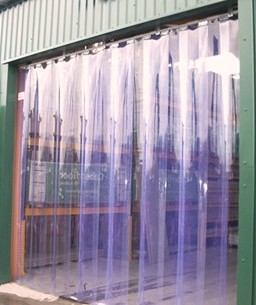 Warehouse strip curtain for fork lift access

We manufacture PVC Strip curtain for installation in cold rooms, freezers and warehouse doors. Our specialist range of free flow curtains for pre-school and nurseries are designed to retain heat while allowing freeflow of play.
Our door strips are manufactured in widths of 200, 300 and 400mm and thicknesses of 2, 2.5, 3 and 4mm with options for ribbed and colour to allow for free passage of personnel and fork lifts.

For personnel doors, 200mm wide strips are used, as they are easier to pass through. Generally for taller doors, the width of the strip will increase while still enabling easy passage. Taller the door, typically increased overlap is offered and for fork lift traffic, thicker pvc is used.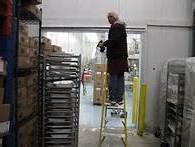 We are happy to make a full selection based on customer requirements, please call 01536 484733 for advice.
We have designed the curtains to save energy and allow for free access to your freezer, walk in cold room or beer cellar while retaining the cold in place.

Widely used in supermarket coldrooms and commonly refered to as butchers curtains they allow you to walk into the room without heat loss or gain.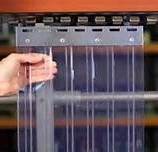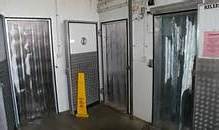 Installation of plastic strip curtains allow doors to be left open whilst helping prevent both heat loss and insect intrusion, and ensure good visibility between areas. The Free-flow curtains will enhancement to your indoor/outdoor space and will help promote continuous provision across all age groups.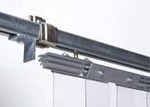 PVC Strips are available in three standard widths of 200mm, 300mm and 400mm.
The curtains are supplied ready for easy installation, and include the curtain strips, hanging plate riveted to strip and hanging rail track.
Curtain strips are supplied pre-cut and can be trimmed to finished length easily.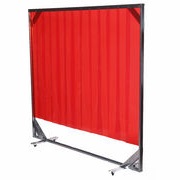 Installation is by fixing the pre-drilled hook-on hanging track either face fix or under lintel hang strips, trim to length as required. Installation time time 30-60 minutes for a standard door way.
Simple to install as follows:
Measure the door opening space ring or email for price and technical help. Place order, delivery is usually a couple of days. Screw hook-on track in place, hang strips, cut to length if required.
Widths of hook-on track can be cut to size with a hack saw..

By hanging the first strips and leaving the gap between along the entire length of rail before hanging overlapping top layer to ensure strips lie flat.